About Us
---
St. Theresa Teacher Training Institute was started on the 1st of July 1947 at old Kosavapalayam, Madurai with the motto "Love & Serve, Lead & Lift". It was started as Higher Grade training with forty students. Rev. Sr. Earnestine Mary was our First Headmistress from 1947 to 1965. On July 02, 1951 it was shifted to Theresal Campus at 161, Kamarajar Salai and the Secondary Grade Training was also started with Forty Students. Until 1956 the Educational methodology was Non-basic method. After July 1956 it was changed to basic method. In 1956 it was known as Basic Training School.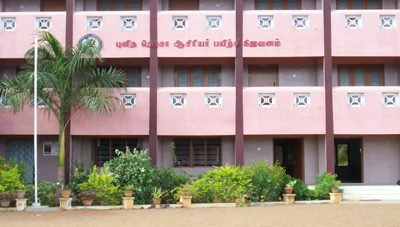 In 1972 it was changed as Diploma in Teacher Education and Teacher Training Institute. From 1975 to 1984 only thirty students were admitted for every two years. From November 1984 onwards forty students were admitted every year. Until 1996 our institute was under the control of State Board. On 4.9.96 our institute came under the control of National Council of Technical Education and was approved by the Southern Regional Committee. From 26.12.2001onwards Eighty Students were admitted per year. On 12.11.2003 the Institute was shifted to Nirmal Nagar, Virahanur. At present it is functioning in the new premises with all infrastructural facilities.
Our institute has adopted the near by Vadakkur Village and once in 3 months our trainees conduct various camps relating to health and hygiene, to make the people aware of AIDS, we conduct AIDS awareness programmes, regarding conservation of water, Rain water harvesting and Drainage system.
Our trainees conduct programmes on Human Rights commission with the help of local officials in the Village. At the end of the Camp our trainees present a cultural programme and Various competitions are conducted to the students of the primary school and the village and Prizes are given to them.
Apart from that Every evening from 5pm to 6pm our trainees give coaching to the near by Children of the labourers working in brick chamber there by helping them in studies
The admission is going on. till 31 st of July 2015.