Principal's Message
---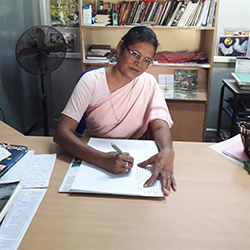 Dear Reader, The goal of our educative endeavour is, to produce in a Ignatius atmosphere, intellectually enlightened, spiritually inspired, emotionally balanced, morally upright, socially committed, accomplished - in a word - integrally formed young women who will be agents of social transformation in todays India. As the academic year 2008 unfolds we are well motivated and determined to make our education well integrated - to make every person, personally confident psychologically secure and comfortable with oneself and others socially free and responsible, and spiritually well attuned to God. What do we do here in Auxilium? It is a relatively small beehive full of activity of all kinds, academic, non-academic, theatre, music, dance and sports. Recently become Autonomous - accredited with A+ - is that the road to success? Will that suffice? Of course all efforts are underway, to begin new and relevant courses to bring our rural young people to the mainstream, to make them capable of competing with the rest. But still a deeper concern and a higher preoccupation pervade our educative action.
We know that education happens in a relational process. The young person relates to herself, and others especially the educators and the process of learning takes place in the advantageous milieu which is simple, clean, peaceful, friendly and supportive. Every educator is well aware of her responsibility and commitment in the growth and development of the young girl who enters the campus. The personal care taken by every educator makes the young girl feel loved and cared for. The students interact in the favorable atmosphere of friendship and care and they try to emulate their educators in absorbing the values lived by them. The young person avails all opportunities to develop her personality and equips herself with new skills so that she becomes capable of facing the challenges that the society poses. The young people are the protagonists here.
It is for their well-being that we live and move and do all things. So we consider the young entrusted to our care each year as precious gifts from God - Gifts to be polished and refined so that they become gifts in turn to their families and society at large. Ours is not an easy task to educate the young people here we do not have the creamy layer of society with us. We take upon ourselves the challenge of educating the poor and the marginalized. Deprived of many opportunities these young people come to us full of potential, which lies quiescent within them only as seeds.
Our joy lies is stirring them and bringing out the hidden potential to blossom and bear fruit. We are committed to our young people and we continue this journey as an educating community of parents, teachers, students, past students, benefactors and well wishers of our Institution. May God grant us enough strength and courage that we may continue this mission entrusted to our care with great joy and love.